The new era of smart infrastructure for the UK's railways
The concept of smart technology is now well-established across sites ranging from factories to office space, retail outlets, and hotels. Many of our customers are already integrating their physical and digital infrastructure to ensure the growing volumes of data created each day can be gathered at the point of creation, then consolidated and stored securely in an actionable form. This will allow for a holistic view of the entire infrastructure, helping to streamline daily operations, optimise safety and security, and identify new opportunities for improvement at the earliest opportunity.
Smart technologies' implications for the UK's railways are tremendous. As we have already touched on in a previous blog post, railways across the country are going through a period of fundamental transformation, driven by the Williams-Shapps Plan for Rail, which sets out a comprehensive thirty-year plan for transforming the way transport services are operated.
Gathering, managing, and analysing real-time data to offer first-class travel experiences
It's no exaggeration to say that UK railways operators' data is their most valuable asset – but one whose full potential has gone unrealised until very recently. With the right technology foundation in place – underpinned by robust, high-performance connectivity – railway operators will be well-placed to transform high volumes of unstructured data into a valuable business asset. The question then, is how all this unstructured data can best be gathered at the point of creation – often referred to as 'the Edge' – and translated into an actionable form that supports ongoing service improvements. There are several aspects to this, involving both IT and OT.
To begin with, railway operators must be able to access a real-time view of every physical asset's location and performance. By tracking the performance of rail assets at the local, regional, and national levels, and providing teams with a holistic view of their performance, potential faults can be identified and resolved before they occur, minimising any disruption to passengers' journeys, and ensuring any potentially serious failures can be pre-emptively avoided.
Such visibility begins with the implementation of physical hardware to track performance, such as sensors in tracks, brakes, and within the trains themselves, or smart cameras within drivers' compartments, to issue automatic alerts in the event of debris on the tracks, for instance. However, while it is certainly possible to monitor performance down to the level of individual components, it is important to factor in the ongoing cost of storage, and also the number of useful insights that data is likely to yield.
Secondly, gathering data on all day-to-day operations is key to optimising efficiency and – in turn – delivering a superior passenger experience. For example, installing sensors and cameras to monitor footfall at stations will allow the busiest periods to be identified, so additional resources and manpower can be made available to prevent congestion, and maintenance scheduled during less busy periods. Taking this a step further, by combining this data with individual passengers' booking data will help identify whether their regular journeys could be taken at less busy times, potentially saving them money, reducing congestion at stations, and ensuring they consistently enjoy stress-free trips – a win/win situation for all concerned!
Developing true smart infrastructure that supports data-driven decision-making
With all of this, new data streams must be fully segregated from the networks intended for passenger use – i.e. the WiFi services in trains and stations – in order to ensure it is never accidentally made visible to travellers. Intelligent integration with AI, machine learning, and analytics tools is also essential, in order to ensure minimal time-to-action in the event of an incident and ensure the analysis of high volumes of data does not create an unnecessary burden on staff.
Putting this into practice will require close collaboration between operators and their technology partners, ensuring that the solutions implemented not only deliver the required levels of performance and resilience, but meet all applicable data protection and compliance standards, as this is not only a legal responsibility for the sector as a whole, but absolutely vital if passengers are to enjoy complete peace of mind that their data will be kept fully secure at all times.
In terms of the selection and implementation of sensors and cameras, the priorities should be avoiding any disruption to day-to-day operations and ensuring the OT elements are effectively integrated with the IT ones to maintain a smooth, fully automated data gathering process. The choice of technology partner is critical here, as they should not only be able to demonstrate deep experience in the convergence of IT and OT, but also be able to supply engineers with the accreditations necessary to work on train tracks and in other challenging environments, and take an agnostic approach to the hardware implemented, for maximum flexibility during the project design stages. They should also be able to demonstrate tangible experience in complex CNI projects and the associated frameworks, along with the sector's specific governance and compliance obligations and all the appropriate certifications regarding safety, security, and corporate social responsibility.
With the right technology partners, a foundation of scalable, resilient connectivity, and the intelligent application of the latest smart technology, railway operators will be well-placed to deliver a higher quality experience for every passenger, whether it's for their daily commute or their next holiday. This will encourage more and more citizens to make use of the UK's railways as we enter the post-lockdown world and – in turn – support the ongoing growth of our transport sector.
To find out more about how Vysiion is supporting the transformation of the UK's railways, do not hesitate to contact us. Our rail industry specialists are on hand to explore your own digital transformation requirements in depth.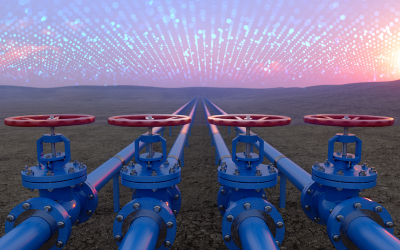 Data at the Edge: Compliance, Access Control, and Asset Management in the Utilities SectorThe utilities sector generates more data at the edge than ever before, but this creates multiple challenges when it comes to ensuring this data can be utilised to drive new...
read more